More Magic to Explore!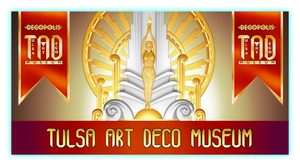 TWO mini MUSEUMS!
Start your tour of Tulsa's Art Deco & Jazz Age history by dropping by our Tulsa Visitor Center and mini Art Deco Museum, inside DECOPOLIS on Route 66! Be sure to ask for a free Downtown Deco District Walking Tour map!
M-Sat 10-6. Sun 12-6
Inside DECOPOLIS is a small, Art Deco themed Town Square having Art Deco artifacts sprinkled throughout. Also in this town square is one of our mini Tulsa Art Deco Museums where tourists can see fascinating info about Tulsa's Jazz Age history, artifacts from historic, lost Tulsa Art Deco Buildings, and beautiful pieces of Art Deco art from around the world.
Ask for a free, downtown Art Deco walking tour map to begin the second leg of your Art Deco journey.
Next, go to Tulsa's historic, Downtown Deco District. We recommend starting at 5th & Boston Ave. near the Art Deco Philcade building. You may get lucky and be able to sneek a peek inside this amazing building! Once a small shopping center, the building owner has allowed us to convert some unused display windows into showcases for Art Deco artifacts. Then step back outside to explore one of the most impressive concentrations of Art Deco and Jazz Age architecture in the country!
Tulsa Art Deco Museum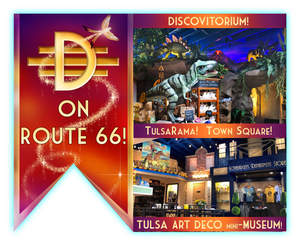 TulsaRama Town Square -&- DECOPOLIS Discovitorium!
Two fun concepts, 1 great location!
Step inside a small Art Deco themed "town square" having tiny shops filled with Tulsa Souvenirs, books and gifts! There is also a Sweets-n-Treats shop, a Tulsa Art Deco mini-Museum, and Tulsa Visitor Center!
Next-door, inside the DECOPOLIS Discovitorium "Where Science & Magic Meet Adventure!" you will enter an incredible Decopunk themed world where you can explore Mesmer Island with its volcanic cave filled with rocks, fossils, dinosaurs and science gifts. You will also find FableRealm Castle with its classic children's toys, books & games. And the Wizard of DECOPOLIS's laboratory having everything from Star Wars to Harry Potter themed items and more!
DECOPOLIS Discovitorium & TulsaRama!
Tulsa Tourism Central!
Staycation or Vacation, we got ya covered!
Discover the many sights and attractions, of Tulsa! Museums, Music Venues, Restaurants, Theaters and Performing Arts Venues, Parks, Shopping, Historic Landmarks, Route 66, Art Deco, Tours, Local Festivals, Events and more!
Tulsa Tourism Central
DECOPOLIS Archives!
Explore our collection of, Tulsa Art Deco and Jazz Age, photos and ephemera!
Tulsa Photos & Ephemera
TulsaRama Gang! Funnies!
Come along and have some old fashioned fun with the TulsaRama Gang and their adventures in Jazz Age Tulsa! 
TulsaRama Gang!
About DECOPOLIS & the TULSA ART DECO MUSEUM!
Discover Mesmer Island (and discover treasure at our Dig Site!)
Visit the Mesmer Island Outpost at the DECOPOLIS Disovitorium on Route 66! See dinosaurs, tikis and pirates! You can even explore inside a volcanic cave and mine for your own treasure at our Dig Site!
Click on the link below to find out more about our Dig Site, and to read a fun story about how Mesmer Island, Art Deco, and Tulsa's Center of the Universe all came to be!
Discover Mesmer Island