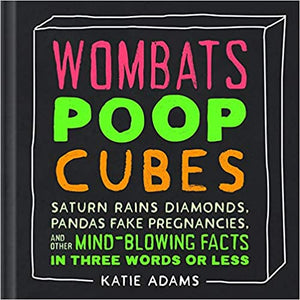 Wombats Poop Cubes
Regular price $16.99 Sale
Learn the facts! In Katie Adams' Wombats Poop Cubes, you will encounter some of the most unbelievable, entertaining, and no-frills factoids ever.
Each page features a fact broken down into just three words. Why? Because gimmicks are great, and so is getting to the point. If you crave more information beyond those three special words, check out the full backstory alongside the fact. Fill that brain of yours with memorable gems of truth to learn hundreds of new things, to become an unstoppable trivia partner, or for no particular reason at all.

Included are shocking and concise truths such as:

· Vikings rap battled.
· Bees get drunk.
· Abraham Lincoln wrestled.
· Kangaroos can't reverse.
· Apples are roses.
· Rabbits attacked Napoleon.

Have some fun. Keep it short. Get some facts!