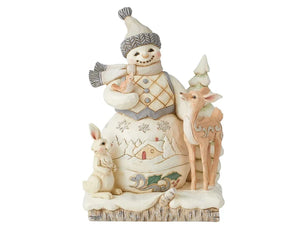 Woodland Snowman with Deer
Regular price $79.99 Sale
Description
This smiling snowman shares an afternoon stroll with friends of the forest. With a carved cozy cabin scene and warmly knit scarf and hat, he's the picture of comfort. A deer and bunny look up towards him lovingly while a bird rests gently on his arm.
Figurine
8.27in H
Birch Bark Buddies Jim Shore Heartwood Creek White Woodland Collection
Figurine
Beautifully hand-painted and crafted with intricate styling and attention to detail
Designed by Award Winning Artist Jim Shore
Jim Shore's unmistakable style evokes a sense of nostalgia with traditional themes, quilt patterns and design motifs inspired by American and European
Product Details
UOM:

 
2 EA min. 8 EA ctn. 1 EA inr.
Packaging:

 
1 EA Photo Gift Box
Measurements:

 
8.27in H x 4.57in W x 5.31in L Wt. 1.76 lbs