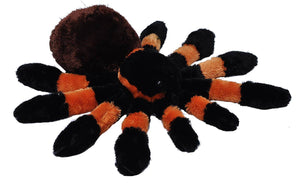 Tarantula Stuffed Animal - 12"
Regular price $24.99 Sale
Harmless but hairy, this many-limbed stuffed animal is the perfect companion for any arachnophile. While this little guy doesnt spin a web to catch his prey, we bet hes snagged your heart just the same. Tarantulas can grow to span an astonishing 11 in. from leg to leg; however, this ball of leggy fluff overshadows them with a 12 in. leg span. The Tarantula Plush from Wild Republic will easily become a part of the family, perching on the back of the couch during movie night (did someone say Charlottes Web?), sprawling on top of your pillows at bedtime, sitting across the table at dinner. Crafted with high quality fabric, this plush toy is built to withstand hours of fun and games.