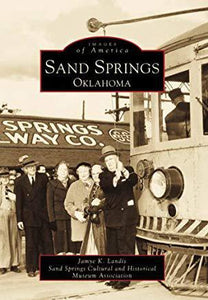 Sand Springs Oklahoma
Regular price $21.99 Sale
One man's dream burst into reality as Sand Springs,
Oklahoma,(a trolley suburb of Tulsa) became the "industrial center of the
southwest" in the early twentieth century. Self-made
millionaire Charles Page recognized opportunity and quickly bought Native American land allotments as they became available for sale, setting about his vision of creating a planned community for thousands of workers. From feverish growth and economic prosperity to violent labor unrest and race riots, Sand Springs exemplifies the opportunities and struggles faced by countless towns across the nation.

The more than 200 images contained within this book
are from the collection of the Sand Springs Cultural and Historical Museum, as well as several private contributors. Focusing on the unusual philanthropic endeavors, industrial and economic diversity, and intriguing political and social structure that has formed this spirited town, the book invites its readers to examine many rare photographs and discover
for themselves the traits that make Sand Springs both unique and ubiquitous.
About the Author
Collected and interpreted by Jamye Landis and the members of the Sand Springs Cultural and Historical Museum Association, the images in this book represent not just buildings and faces but also the ambitions, hopes, dreams, and struggles of an entire community as it withstood nearly a century of rapid change.
Item Weight :

9.8 ounces

Paperback :

128 pages

Dimensions :

6.5 x 0.31 x 9.25 inches

Publisher :

Arcadia Publishing; Illustrated edition (December 6, 1999