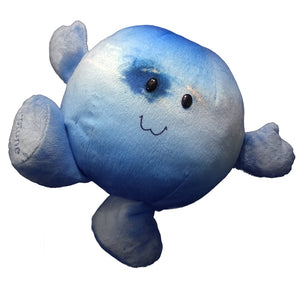 Celestial Buddy: Neptune
Regular price $23.99 Sale
Neptune…I may be cold, but I'm one far out friend!  The furthest planet from the Sun, I'm named for the Roman God of the Sea, but it's not water that makes me so blue. It's the methane in my atmosphere.
Because I am so far away, you can't see me with the naked eye. I was the first planet found through mathematical prediction, rather than direct observation. My most defining characteristic is an active storm system, similar to Jupiter's Red Spot, but mine is dark, almost black. Surrounded by white cirrus clouds of frozen methane, I have winds stronger than any other planet's – as high as 1,300 miles per hour!
It takes me 165 of your years to make one trip around the Sun, but my day lasts only about 16 of your hours. My largest moon, Triton, was discovered just a couple of weeks after I was, but more recent space flights have shown that I have a total of at least 14 moons.