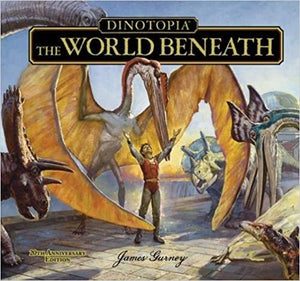 Dinotopia: The World Beneath
Regular price $30.00 Sale
Imagine... an isolated island inhabited by shipwrecked humans and dinosaurs who have learned to coexist peacefully as a single symbiotic society. The creation of writer/illustrator James Gurney, the fantastical journey that is 
Dinotopia
 began as an illustrated children's book called 
Dinotopia: A Land Apart from Time (1992)
. Its cross-over success to both children and adults led James Gurney to write and illustrate three more books called 
Dinotopia: The World Beneath (1995),
Dinotopia: First Flight
 (1999) and 
Dinotopia: Journey to Chandara (2007)
. The plot of the main 
Dinotopia
 books concerns Arthur Denison and his son, Will, and the various people they meet in their travels in Dinotopia. Beginning in 2012, Dover Publications proudly began reissuing 20th anniversary deluxe hardcover editions of the first 3 landmark books, as well as the 4th book, reissued 10 years after its initial 2007 release.