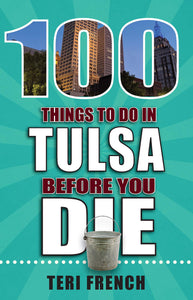 100 Things to Do in Tulsa Before You Die
Regular price $16.00 Sale
Traveling down Historic Route 66 through the foothills of the Ozarks, you may be lucky enough to stumble upon one of America s most beautiful cities in Tulsa, Oklahoma. Or maybe you re a lifelong resident of the Oil Capital of the World who wants to uncover the hidden gems of the city you call home.
100 Things to Do in Tulsa Before You Die showcases the art, culture, and people that make Tulsa shine, all while revealing a few of the secrets it hides.
This quick-reference travel guide shows the more diverse, eclectic, and fun things to do in Tulsa that should be on everyone s bucket list. Get insider tips for visiting the Philbrook Museum of Art housed within the old mansion of oil tycoon Waite Phillips. Hum along to This Land is Your Land at the Woody Guthrie center, or check out the new renovations at The Church Studio where music legends like Willie Nelson and Bonnie Raitt once recorded their famous songs. Don't miss some of the best barbecue where pig country meets cow country, and find locally-owned favorites from Lebanese steakhouses to Coney Island dogs. Local author Teri French is known for her ability sniff out Tulsa secrets, and her guide will serve as an incomparable resource for visitors and locals alike. Make sure to bring it along for your next adventure and find out just what makes Tulsa so distinct.